While some women worry about their lack of breast development, other women deal with the problems of over-developed breasts. Overly large breasts can cause physical pain (neck, back, and shoulder pain, trouble breathing, slumped posture), lifestyle problems (finding clothes that fit, being unable to participate in some activities), as well as emotional problems (unwanted attention, self-consciousness, lowered self-esteem). Breast reduction surgery (also known as a reduction mammaplasty) by double board-certified Plastic Surgeon Dr. Suzanne Trott removes excess breast tissue to balance the proportions of the chest to the rest of the body. Breast reduction surgery can also alleviate physical pain, allow you to participate in more physical activities, and make it easier to find clothes that fit. Schedule a private consultation at Suzanne A. Trott, MD, FACS in Beverly Hills, CA to discuss your concerns and goals, then learn more about your breast reduction options.
Breast Reduction Reviews
"Dr. Trott is what every patient dreams of.... extremely knowledgeable, professional, accredited, personable, and meticulous. Most importantly she listens to you and only wants to give you what you are looking for, and does NOT try to talk you into anything you are not.  And she would tell you if you DON'T need plastic surgery/lipo and if you should just go home and do sit-ups!  You can tell she genuinely cares for her patients, takes much pride in her work and is only satisfied with perfection.  I am 5 months post op of a breast augmentation and Dr. Trott gave me exactly what I was hoping for.  She did not try to talk me into a larger cup size, she knew i wanted a very natural looking shape that fit my body.  She's real, easy to talk to, and an excellent physician and plastic surgeon.  Her staff is wonderful.  Office is very comfortable, bright, and modern.  The surgical center was not only gorgeous, but also very comfortable and private.  And all the staff there made me feel very relaxed and I knew I was in good hands.I HIGHLY recommend her to everyone I know and would ONLY trust DR. TROTT to care for my friends and family."
- T.L. /
Yelp /
Jul 04, 2010
"Dr. Trott is extremely easy to speak to, not arrogant at all, and she really takes the time to explain anything you ask. She really cares about her patients.She is an excellent surgeon - she performed a breast reduction and lipo on me which she did an excellent job. She really knows what to do to get the best results.I highly recommend Dr Suzanne Trott."
- Anonymous /
Vitals /
Apr 09, 2012
"I recently had a breast reduction with Dr. Trott and the whole experience exceeded my highest expectations. In the the two and a half months since my operation I've had an exceptional outcome. The neck and shoulder pain I previously suffered from is almost gone and I have so much more energy than before. Dr. Trott's experience, attitude and patience made me feel well cared for and confident in my decision to have this surgery. Joan W."
- J.W. /
Yelp /
Mar 15, 2016
"I had a breast reduction two years ago this month. I meant to write a review sooner, but kept forgetting. Only recently when a co-worker mentioned how she wanted a reduction did I think to write this review as I most definitely referred her to Dr. Suzanne Trott. I am still pleased with my decision to get the reduction and to go with Dr. Trott. She is super friendly, knowledgeable, and helpful throughout the whole process. I love how she placed me on Arnica pills before and after the surgery to assist with the swelling and bruising. That alone helped a lot. I am so grateful that Dr. Trott worked with me as other surgeons (males) insisted on me losing weight first even when I explained that 1) losing weight would not reduce my breasts as it was genetic and 2) with my back problems, a reduction would assist me to lose weight to in turn assist with my back. Again, thank you Dr. Trott for assisting me. I am happy to say I have lost the weight and am very proportionate and love looking in the mirror everyday!"
- Anonymous /
RateMDs /
Oct 25, 2015
"I had originally gone to a different surgeon for my first breast augmentation and had THE WORST experience. From start to finish everything just felt so impersonal and wrong, and the results were terrible.After 2 years I found Dr.Trott through referrals of friends who had nothing but good things to say, and show, from their experience with her and I couldn't agree more. The second I met her she made me feel so comfortable, went over everything in so much detail, brought up questions I would never even think to ask. She explained to me why I had such bad results, was very honest about what she could do to fix them, gave me all my options and her opinions on them. She was amazing. After surgery she was available 24/7 with any concerns or questions I had, and the results are better than I could ever imagine!!! I really could go on and on with great things to say about her and her team. 10 stars!"
- D.O. /
Yelp /
Mar 21, 2017
Previous
Next
Breast reduction is appropriate if you experience:
Disproportionate breasts to the body
Painfully heavy breasts
Bra strap grooves in the shoulders
Limitations on activity
Slumped posture
During a reduction mammaplasty, the surgeon will skillfully remove excess skin and tissue before re-contouring the breasts. The surgeon can choose to implement these incision patterns:
Incision around the circumference of the areola
Vertical incision from the bottom edge of the areola to the breast line
Horizontal incision on the breast line
Liposuction may also be used to safely remove excessive tissue in the breast and will minimize scarring as it requires a much smaller incision. It also reduces the risk of losing nipple sensation and discoloration of the areola due to poor blood flow during surgery. The surgeon will discuss the difference between the techniques and help you determine which is best for your needs and goals.
After breast reduction surgery, you may feel immediately lighter, due to the amount of tissue removed. After the surgery, you should wear a compression bra to support the healing process for the first couple of weeks. You will also be given post-operative care instructions and you can pre-schedule your follow up appointments to help you stay on track during your recovery process. You will need to rest for at least 7 – 10 days before returning to work. Regular physical activities can be resumed within 6 – 8 weeks. In some patients, it may take a year for nipple sensitivity to return to normal.
Will insurance cover this?
Once a patient has decided that a breast reduction is right for them, the next step is to find out whether their insurance company considers the surgery medically necessary.
In the consultation, Dr. Trott will perform a History & Physical exam. She will make record of the patient's symptoms (such as: back pain, neck pain, bra strap grooving, rashes under the breasts, inability to exercise without two sports bras on at once, and interference with the patient's livelihood).
Dr. Trott will use her extensive knowledge and expertise to evaluate how much tissue will be removed, and then she will refer to the Schnur Sliding Scale criteria.
The scale helps determine the minimum required amount of tissue that needs to be removed from each breast in order for it to be considered a medically necessary procedure. It compares the patient's body surface area (BSA) to the weight of breast tissue to be removed in surgery.

Despite your symptoms, if the weight of breast tissue to be removed for their body surface area is not enough to satisfy the criteria of the Schnur Sliding Scale, then the surgery is deemed cosmetic in nature. It is unlikely to be approved by a health insurance company.
Use this calculator to find out your BSA: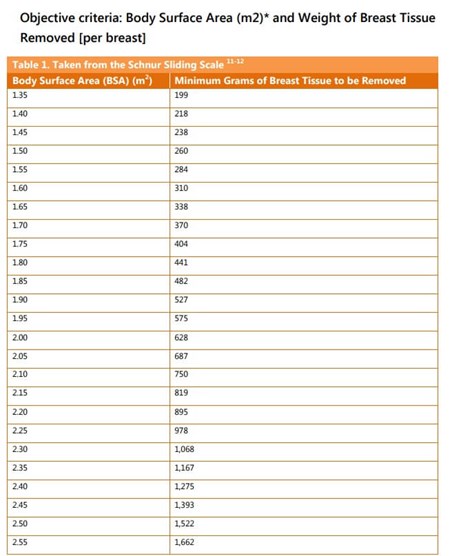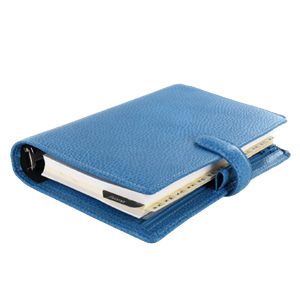 Plan Your Procedure
Recovery Time

1 Week

Procedure Recovery Location

Outpatient
Contact Us
Imagine living with lighter, more proportionate breasts that allow you to be comfortable in your clothes. Relieve your neck, shoulders and back of the aching from carrying around extra weight. Contact our office to schedule your initial consultation to learn more about breast reduction surgery.
Related Procedures
Related Post